---
Welcome to AddictiveRC Located In Tucson Arizona
We offer Free local Pickup to all our local Tucson Arizona customers!
Sorry We Do Not Repair DJI Drones.
Please feel free to contact us at: support@addictiverc.com or 520-429-6493 if you have any questions.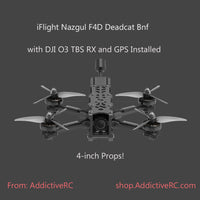 Addictive RC YouTube Channel:
Kwad Build Blog:
Here is another custom build i finished with excellent results.Built off of the HGLRC Sector 5-inch CF Frame Kit. I love this FC and 4 in 1 combo set. This...
This was a fun build and the result was a very powerful little 5-inch Freestyle Mini-Kwad.With very precise handling and plenty of top end pull.Another winner in my book!-John S....
Wow this turned out to be an unexpectedly smooth flyer!Not the most powerful but very light and nimble with longer flight times.I am very impressed with the smooth power delivery...