---
T-Motor's powerful F7 Flight Controller combined with the T-Motor F55A Pro II ESC will give you optimized performance and seamless integration in your electronics stack.
This is the HD Version for DJI HD Systems!

T-Motor F7 Flight Controller:
T-Motor's first F7 Flight Controller has arrived! Logical layout, designed to work seamlessly with the T-Motor F45 and F55 ESC.
Specifications
MCU: STMF722RET6
Gyro: MPU6000
Memory: 16M
Input Voltage: 12v-25-2v (3-6S)
BEC: 5V/2A
Dimensions: 37mm x 37mm
Mounting Holes: 30.5mm x 30.5mm
Weight: 7.4g
Firmware Target: TMOTORF7 (Betaflight)
T-Motor F55A Pro II 55A 3-6s BLHeli32 4-in-1 ESC w/ BEC
The F55 Pro II updates the original F55 with a new heatsink design, LED, and increased the BEC current to 10V@2A.
Fully capable of pushing 6s with 75A burst and a sustained 55A current draw. Equipped with the latest in ESC technology such as 32-bit capability and BLHeli32 firmware.
Specifications
Continuous current: 4*55A
BLHeli_32 32bit
Burst current: 4*75A
BEC Output: 10V @2.0A
Size: 45x41x7.3mm
Weight: 17.5g (Including Heatsink)
Support DSHOT150/300/600/1200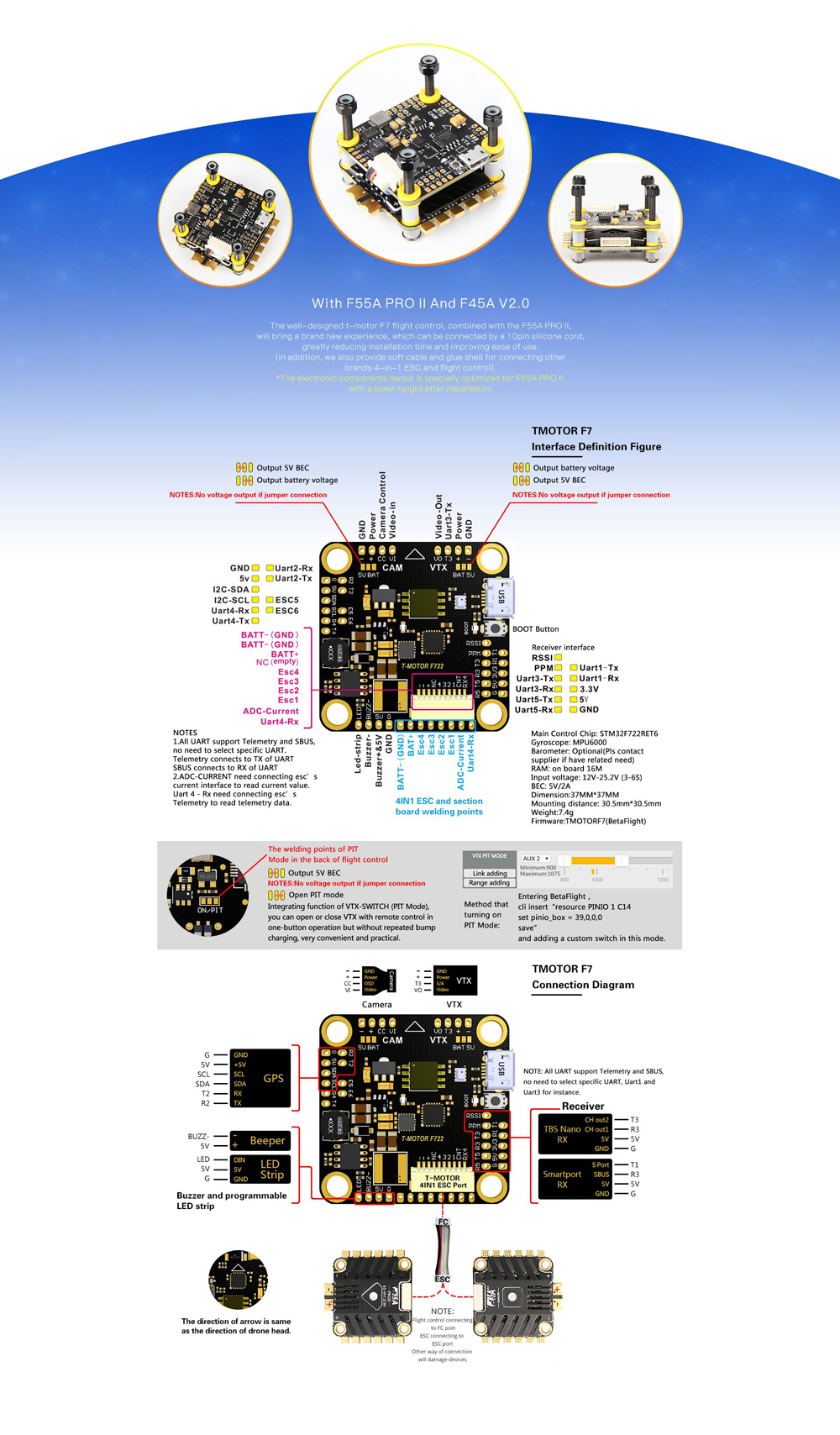 Includes
1 x T-Motor F7 Flight Controller
1 x T-Motor F55A Pro II 55A 3-6s BLHeli32 4-in-1 ESC w/ BEC
1 x XT-60 Pigtail
1 x Insulation Board
4 x Link Board
4 x M3x30 Screw
2 x FC to ESC Cable
4 x Non-Slip Nut
16 x Spacers
1 x Capacitor