---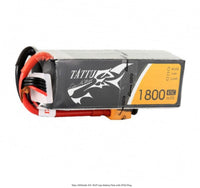 Sale
TATTU 1800mAh 4S1P 45C lipo battery packs Max Burst Discharge, which is best suited to Vortex, LRC Freestyle V1(270-296) , drone, and FPV etc.
All Tattu LiPos are packed with vibration-proof & fire-proof material and our luxury battery box ensuring you get your battery in perfect condition. An automatic procedure & Computer system battery cell matching process ensures the batteries stability and quality. Different from the original Gens Ace series, TATTU is specialized for the UAV & UAS market, with their industrial quality (since Gens Ace is based on the Hobby area), their slogan "less is more", "more" means more flight time, more enjoyment, and more satisfaction, and "less" means less weight, simple design. Tattu always develops their products according to these 2 directions giving you a high-quality battery.
Features:
- Stable automatic stacking technology enables single-cell capacities of 1800mAh.
- The most strict single cell capacity, voltage, resistance, discharge curve matching process.
- Superior Japan and Korea Lithium Polymer raw materials.
| | |
| --- | --- |
| sorting | TattuFPV |
| Brand | Tattu |
| Capacity(mAh) | 1800 |
| Voltage(V) | 14.8 |
| Discharge Rate (C) | 45 |
| Max Burst discharge Rate (C) | 90 |
| Configuration | 4S1P |
| Net Weight(±20g) | 202 |
| Length(±5mm) | 107 |
| Width(±2mm) | 35 |
| Height(±2mm) | 29 |
| Wire Gauge | AWG12# |
| Discharge Wire Length(mm) | 100 |
| Balancer Connector Type | JST-XHR |
| Balancer Wire Length(mm) | 65 |
Battery Disclaimer:
Li-Po and Li-Ion batteries must be cared for properly when stored, and NEVER charged, balanced, or discharged unattended.
ALWAYS be in the same room within line of sight of charging or discharging batteries.
NEVER charge or discharge batteries on a flammable surface.
Failure to follow these instructions may result in fire, personal injury, and/or property damage.
By purchasing this battery, you agree that AddictiveRC and the battery manufacturer are in no way responsible for consumer battery charging and care, or any of the risks associated with Li-Pos or Li-Ions