---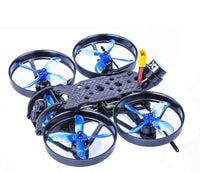 iFlight CineBee 4K Whoop w/ Caddx Tarsier 4K – BNF 4S version with DSMX RX.
The iFlight CineBee 4K is an upgrade of the popular CineBee 75HD, created to record professional grade 4K high-resolution video for sport and commercial use.
Our target was pretty clear, create a lightweight, durable but jello-free whoop that can shoot high-quality videos. We decided to use a combination of carbon, plastic, and TPU to have a rigid bottom plate that doesn't oscillate, with still crash resistant abilities and integrated prop guards giving the whole frame strength. The stack is soft-mounted, the cam is soft-mounted, the motors run smooth - keep your props in a good condition, and you won't have to worry about jello!
Features:
- 4K 30fps, 2.7k 60fps, EIS (image stabilization)
- 1200TVL <10ms low latency FPV cam
- Ultra-light but high performance
- JELLOFREE durable carbon/plastic construction
- No props or prop guards in view
- Upgradeable, versatile, futureproof
Specification:
- Frame Wheelbase: 107mm
- Build Weight:  around 106 grams 
- SusseX
- iFlight 1104 8300kV /5000KV motors (1.5mm shaft)
- Caddx.us Tarsier 4K 1200TVL Dual Lens
- HQProp T2x2.5x3
- iFlight Prop Guards 2 inch
SusseX Micro F4 Flight Tower System 16x16mm
SucceX F4 Flight Controller
-STM32F411
-Input voltage 2-4S LIPO
-Gyro: MPU6000
-2x UART ports
-4x motor outputs
-OSD inbuilt
-No Black Box FLASH
-BEC 5V 2A Cont.
-Size: 21mm*21mm
-Mounting holes: 16*16
-Weight: 2.5g
-BF target: MATEKF411
SusseX Micro 12A Brushless ESC
-Firmware: Blheli_S
-Input voltage : 2-4S LIPO
-Continuous current: 12A
-MCU: BB21F16G
-BEC: None
-ESC protocol: PWM, oneshot125, multishot, dshot150, 300, 600, etc.
-Size: 23mm*21mm
-Mounting hole 16*16mm
-Weight: 2.7g
SusseX Micro VTX
-Power: PIT/25/100/200mW
-Antenna interface: IPEX (UFL)
-Telemetry: IRC Tramp
-Size: 17mm*27mm
-Mounting holes: 16*16mm
-Weight: 1.6g