---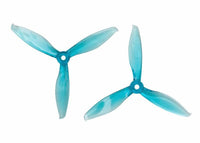 Gemfan Flash Durable 3-Blade Props (Clear Blue) Set of 4pcs.
The latest iteration of high-speed racing props from Gemfan could be your next go-to prop in your bag. These props come in weighing 4.6g each, rather light considering their extended paddle to grip the air. This reduced weight reduces the spinup time of your motors giving you quicker and more agile movements in the air, even at lower speeds. This prop shares the inverse tip design with other Gemfan propellers which are designed to reduce wingtip vortices that reduce efficiency.
They are super durable and maintain form at high RPM which helps with high-speed maneuvers and punchouts.
SPECIFICATIONS
Size: 5.1"
Pitch: 4.9"
Material: PC
Blades: 3
Weight: 4.65g
Mounting hole: 5mm
Center Hub Thickness: 7mm
POPO Compatible: Yes
INCLUDES
2x CW 5149 Propellers
2x CCW 5149 Propellers