---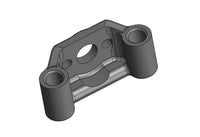 Catalyst MachineWorks Spare FPV Antenna Mount BangGod Black
This is the same part sold with our Smooth Operator line of frames. This is also sold as a optional accessory for the BangGOD 5", 6" or 7". Made of black TPU.
Fits:
This part fits both the Smooth Operator 5" and 6"
This part also fits the BangGOD 5", 6" and 7".