---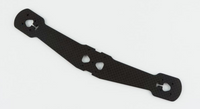 Description:
Team BlackSheep.
V4ARM5PRP.
All Carbon RC 4mm Thickness 5" Props Swappable Carbon Fiber Arm -
TBS Vendetta
Following the release of the TBS Vendetta, All Carbon RC set out
to enhance and upgrade the hot swappable carbon fiber arms. The
result is a 4mm solid carbon fiber arm that is stronger and more
resilient than its predecessor while keeping it light weight.
The arm boasts wider motor mounting holes for all your favorite
fpv motor combinations as well as an enhanced wire slot to make
motor installation a breeze. The arm length is the same as the
original TBS Vendetta arm and can swing your standard 5" props or
smaller.
Specifications
* Fits TBS Vendetta
* 4mm Arm Thickness
* Enhanced Motor Wire Slots
* Wider Motor Mounting Holes
* Weight 27g per arm (only 3 grams heavier than the original)
* Swings 5" or Smaller Props
* USA Manufactured & Milled