---
HEXplorer LR 4 4S Hexa-copter BNF Analog Caddx Ant Cam F411HEX BS13A 6IN1 600mw vtx with TBS Nano RX.
**INCLUDES: 2 x Tattu R-Line Version1.0 95 C 4S 1050mah Lipo Batteries!

Note: TBS Nano RX included

As we said before, we will explore more fun with Dave_C in the new field of #micro long range. We did it! After the success of Explorer LR 4, everyone has many new needs. For example: I hope it can carry a full-size gopro! I hope it is perfect for freestyle and cruising! I hope it has Bluetooth function!
We are proud to announce that Hexplorer Hexa-copter is finally here!
Continue to develop new products to meet the needs of more users!
HEXplorer LR 4 Analog BNF Specification :
Goku F411 hex nano stack 16x16 & Goku Hm600 600mw vtx
Caddx Ant camera
Dave_C & Nin 1404 V2 2750kv motors
Goku M8N mini gps v2.0
Flywoo Finder v1.0
Gemfan 4024 props
Atomic 5.8 G antenna LHCP 
TBS Nano Receiver

2 x Tattu R-Line Version 1.0  95C 4S-1050mah Lipo Batteries
Recommend Battery : 
Naked Gopro & SMO 4K & Insta360 go  ---Explorer 18650
Gopro 5/6/7/8 & Insta360 One R ---- Tattu 1050 4s mah or 850 4s mah
Highlights & Specification :
1、 Equipped with GOKU HEX F411 16X16 NANO STACK, and NIN 1404 v2-2750kv, support 4s battery. Use powerful STM32F411 chip,5V/2A BEC, black box, WS2812LED,
support 2 complete hardware, 1 serial ports, I2C and other functions are all open ! Enough to meet all FPV needs.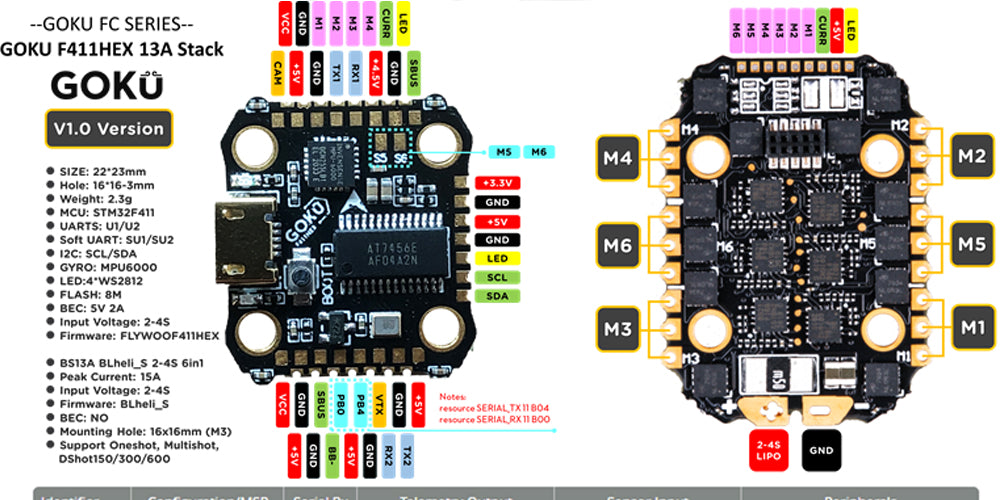 2、As Dave C said,If you want the smallest and quietest platform to able to carry a full GoPro while still having good flight times and performance - Get the Hex!
3\ The Hex LR is perfect for pilots who prefer freestyle. Not just cruising. 
4\ Caddx Ant camera gets better images & Goku HM600 600mw Vtx gets longer range! !
5\ Using Flywoo Goku Mini GPS V2.0, searching for satellites is faster and more stable than the V1.0
 6\ All versions have been solder power cables for SMO 4K , If you want to use naked gopro 6/7/8, just change the power plug . 
7 /Packing list.