---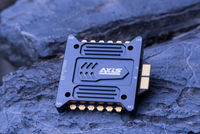 Axisflying Argus PRO ESC 65A 4 in 1.
*Forword

- Plug and Play Argus is axisflying electronic series that include ESC, FC and stack.  Argus PRO series adopt full aluminum cover wrapped that can get IP54 to protect PCB.  Argus series is PCB electronic only. There are 2 kinds of ESC 55A and 65A. The FC is F722 that can support X8 
*Feature
      - Dustproof and waterproof IP54, with splashproof function, it is forbidden to put it into water or use it underwater!
      - CNC Full aluminum cover wrapped, enlarge the radiating surface, rapid heat dissipation, more stable work

      - High-quality and large-size MOSFETs are selected, with low internal resistance and low heat generation, plus CNC heat dissipation aluminum cover, Even if the throttle is used for a long time, it is not afraid of overheating, which brings more stable power performance.
      - No welding, more peace of mind.  With this FC, HD Air unit, analog camera, GPS and other common peripherals all support direct plug-in
      - Integrated dual BEC, support DJI O3 Air Unit air unit direct connection
      - The FC supports up to 8 motor outputs, easily build your X8 drone
      - Quickly check the working status of the FC by turning on and off the corresponding status indicator light
*Function
- 96Khz 55A and 65A Bl-heli 32bit 3-6S ESC / STM32F722 FC
- BMI 270 Gyro
- Blackbox Flash 16MB
- UART ports: 6
- BEC :5V @2A and 9V@2A
- ESC SENSOR Supported 
- HD/Analog Supported
- LED-BZ Supported
- GPS Supported
- X8 PWM Supported
- Plug and Play Support 

*Specs
Argus PRO 65A ESC
- Size: 48.6*46.6*8.7 mm  / Weight: 32g / Mounting Holes: M3-30.5*30.5mm